[wpseo_breadcrumb]
introspection ~ withdrawing ~ self-exploration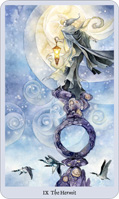 Shadowscapes Tarot
Tarot Card Meanings for the Hermit Card
Keywords for the Hermit

Introspection, contemplation, wanting or finding solitude, private self-reflection, seeking enlightenment & spiritual experiences, meditation, being discreet, privacy, home study, withdrawing from society, patience, self-exploration, therapy/counseling, self-help.

The Hermit Reversed

Withdrawing from loved ones, turning your back on someone, being isolated, feeling out in the cold, self-absorption, a social misfit, loneliness, exile, being silenced, sadness.

The Hermit as People

Hermits, spiritual seekers, mountain climbers, extreme sportsmen, cave/pothole explorers, archaeologists, historians, philosophers, shaman, witch doctors, natural healers.
What Does the Hermit Card Mean in the Tarot?
I have a special relationship with the Hermit as it one of my birth cards. As a Virgo sun, I've sought to understand the relationship between these two because I just couldn't always see it. The result of that exploration is my thorough post, Virgo Through the Eyes of Tarot. Once you've read this smaller than usual entry here, pop over to that post for more information regarding the Hermit, bonus information about the three decanate cards that fall under the Hermit, the other major arcana cards related to it through numerology, and of course an exploration of the number nine.
In general we see the Hermit as a solitary figure, walking on mountains, carrying a staff and lantern to light the way. This solitary existence informs our everyday life when we need a timeout. This isn't a rest per se, if it was, we would refer to the 4 of Swords. This timeout allows us to ponder, contemplate, ruminate and question. In the quiet we may hear the answer from our higher self, Holy Guardian Angel, daemon – which ever belief you attest to will work for you, but you must have the quiet, with little to no interaction at least for that exercise.
Seeking to withdraw from others can unnerve them, but if they know you well enough and you do this often (as I do), they will understand and welcome you back when you are ready. It is less about withdrawing from others as it is about going inward, there may be equal weight between the two but if your tarot reading shows a period of self-reflection via the Hermit, take it with both hands and check out for a day or two. No phone, no internet, no tv. Take a notepad and pen and write whatever comes out, let your inner self express itself freely and without judgement – hard for a nitpicky Virgo, if you are one, but do it all the same.
The Hermit may also indicate that you need to knuckle down and get some work finished. Sometimes this can only be done without interruption or distraction.I have also seen the Hermit as someone turning their back on another. It was unpleasant to see in the spread of cards but clear as day. There is a visual correlation between the Hermit and the 5 of Cups, from the Rider Waite-Smith at least, and this can remind us that loneliness and sadness can go hand in hand with too much time alone, becoming like solitary confinement or isolation. One can slip easily into the other so if you don't see a lot of people, get yourself out and about amongst people and strike up a conversation in a safe place – a very public coffee shop is a nice way to keep some space around you without the committment of a prolonged conversation.
Correspondences for the Hermit
Key
9
Element
Earth
Astrology
Virgo
Aug 22 – Sept 23
Numerology
9
Related to 18, the Moon
Count
12
Yes/No
Maybe
Posts Featuring the Hermit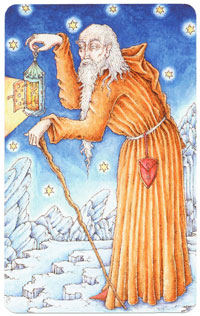 The Hermit from the Medieval Enchantment Tarot by Nigel Jackson
Virgo Through the Eyes of Tarot
Explore the Hermit and related cards associated with the zodiac sign of Virgo. A detailed and thoughtful exploration of Virgo as represented through tarot including topics such as numerology and astrology, ancient history, mysticism and alchemy. See how the Hermit relates to Virgo and it's partner cards directly associated with this zodiac sign and see how you can relate them to yourself and your life in a more meaningful way.
Read here
The Hermit and the Grow Model Tarot Spread and the Logical Levels Tarot Spread
As well as explore these pro-active and solution-focused tarot spreads, the
Grow Model Tarot Spread
and the
Logical Levels Tarot Spread
, see how the Hermit fits into them, the cards around them, and ultimately, into my life at that time. Seeing how a tarot card relates
in situ
is one just one way that brings the tarot to life, and helps it make sense to your own.
The Hermit as Featured in the Illuminated Tarot and the Hezicos Tarot
Both the
Illuminated Tarot by Carol Herzer
and the
Hezicos Tarot by Mary Griffin
feature the Hermit in their reviews. They bring some new information, a new perspective and way to see the Hermit through different tarot decks.
<< Strength | The Wheel of Fortune >>
Featured card image from Shadowscapes Tarot by Stephanie Pui-Mun Law, published by Llewellyn.
Did you love this post? Tell your friends about it!