introspection ~ withdrawing ~ self-exploration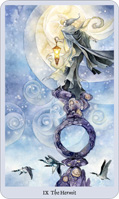 Shadowscapes Tarot
Tarot Card Meanings for the Hermit Card
Keywords for the Hermit

Introspection, contemplation, wanting or finding solitude, private self-reflection, seeking enlightenment & spiritual experiences, meditation, being discreet, privacy, home study, withdrawing from society, patience, self-exploration, therapy/counseling, self-help.

The Hermit Reversed

Withdrawing from loved ones, turning your back on someone, being isolated, feeling out in the cold, self-absorption, a social misfit, loneliness, exile, being silenced, sadness.

The Hermit as People

Hermits, spiritual seekers, mountain climbers, extreme sportsmen, cave/pothole explorers, archaeologists, historians, philosophers, shaman, witch doctors, natural healers.
Correspondences for the Hermit
Key
9
Element
Earth
Astrology
Virgo
Aug 22 – Sept 23
Numerology
9
Related to 18, the Moon
Count
12
Yes/No
Maybe
Timing Events with the Hermit
As shown in my Major Arcana Correspondence chart, the timing I associate with the Hermit is Aug 22 – Sept 23, which relates to the zodiac sign the Hermit is aligned with – Virgo. This is very clear and can also give us a tighter time frame if one of the following cards also appear in your tarot spread:
These cards also share the same time period as the Hermit and are useful when a more specific time frame is helpful.
We can also look at other factors for an indication of timing.
The nature and character of the Hermit is stable and methodical and doesn't appear to do anything quickly. However, as we see him at the top of a mountain, he clearly does move forward, just not quickly.
The element of earth is associated with the Hermit and this would also suggest the slower nature in terms of movement.
The number nine is also a closing number so it's also in no rush – the finish line is in sight and it is in control. Completion is promised.
We can interpret these factors to suggest a coming event is in no rush and will happen in its own time. Whatever the event, it cannot be rushed nor forced. The advice with this is to be patient and let things unfold naturally.
The Hermit as a Daily Tarot Card
We often see the Hermit as inner wisdom and seeking solitude to find our truth.
Now while that's true, for today, things will be a little different.
Today, the Hermit is your Inner Guide. As he shines his light in the dark corners and recesses of your heart and mind, he's also showing you the way.
It can get rough out there and you don't always know who to trust, where to put your faith, let alone your money.
Let Old Man Time be your guide today. Any big decisions you have to make, go inward and meditate on it.
Connect with the Hermit and let him show you anything inside you that can affect your decision making, any long forgotten anger or bitterness that may cause you to choose wrongly and disrupt an otherwise peaceful day.
While his lamp illuminates the way, we mustn't forget his staff. The light can play tricks with your eyes and you may still be deceived. Forward movement today is possible by use of his staff. Use it to feel your way. You can't always see a hole in the road, but you can feel one before you fall.
Touch base with the Hermit and let him be your inner guide.
Posts Featuring the Hermit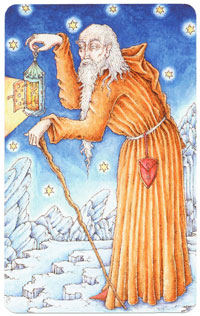 The Hermit from the Medieval Enchantment Tarot by Nigel Jackson
Virgo Through the Eyes of Tarot
Explore the Hermit and related cards associated with the zodiac sign of Virgo.
A detailed and thoughtful exploration of Virgo as represented through tarot including topics such as numerology and astrology, ancient history, mysticism and alchemy. See how the Hermit relates to Virgo and it's partner cards directly associated with this zodiac sign and see how you can relate them to yourself and your life in a more meaningful way. Read here
The Hermit and the Grow Model Tarot Spread and the Logical Levels Tarot Spread
As well as explore these pro-active and solution-focused tarot spreads, the Grow Model Tarot Spread and the Logical Levels Tarot Spread, see how the Hermit fits into them, the cards around them, and ultimately, into my life at that time. Seeing how a tarot card relates in situ is one just one way that brings the tarot to life, and helps it make sense to your own.
The Hermit as Featured in the Illuminated Tarot and the Hezicos Tarot
Both the Illuminated Tarot by Carol Herzer and the Hezicos Tarot by Mary Griffin feature the Hermit in their reviews. They bring some new information, a new perspective and way to see the Hermit through different tarot decks.
<< Strength | The Wheel of Fortune >>
Short URL: https://wp.me/PvG7h-1KV
Featured card image from Shadowscapes Tarot by Stephanie Pui-Mun Law, published by Llewellyn.