Whether known as Fathers, Kings or Knights* in your own Tarot deck, this final group of the Tarot Court will almost always be a senior male to yourself, in rank and/or age. They will represent your father, your uncle, your bank manager – the mature males, and generally the ones we look up to in life. Being a King instantly reminds us of hierarchies, be that at home, at school or university, or in the workplace, and as such he will always be seen as 'patriarchal'.
Kings make things happen. This is less about activity and movement like the Knights, Kings call the shots and can give the go-ahead or the stop-sign to a project, idea, or business activity. As events they can represent the establishment of those ideas and projects; of high end career promotions and 'making it'; of holding the reins and decision making. As inner processes, they ask you to assume control, this is less about stepping up to the plate, a King already has, though as a psychological process, it could signify a right of passage or coming of age of a younger male into maturity.
A strong backbone and strength of character is required, because even as a softer, perhaps more compassionate King of Cups, you will still need to be able to say no and hold firm, or say yes and then provide the means to see the task through.
In her guest post, Order in the Court, Barbara Moore describes the Kings as "one who has authority, makes decisions, or is a professional", which is a beautiful summary. She treats the individual elements to the same concise summary so that a court card and element can be matched in an easy to remember system. Barbara developed this for her then upcoming book, Tarot for Beginners. It is a really great way to see the court cards and adds value to the tarot card meanings for the court cards I have laid out here. Be sure to add both systems to your tarot journal.
*Knights in this post refer to any Tarot deck (generally Golden Dawn based) that renames the Kings to Knights and should not be confused with the traditional Knights found in a Rider Waite-Smith based deck. As in the Quest Tarot, and others, Kings are called Fathers. All relate to those senior men discussed above.
Keywords For The King, Knight & Father of Wands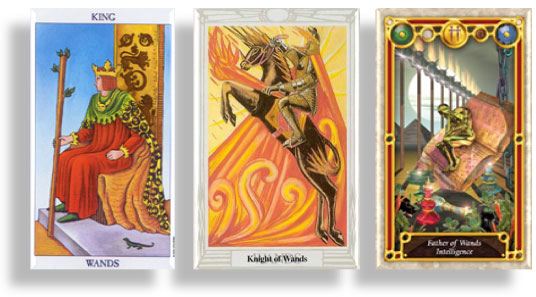 As People:

A dynamic and voracious man in any field of his interest; seemingly limitless mental energy; strong will and determination that has become second nature; a business man, self-made and entrepreneurial; a pioneer and visionary; optimistic and forward looking; supremely confident, energetic and too charismatic for his own good.

As Events:

Promotion or getting the job you thought might be just out of your reach; success in projects, business & choices; expansion and establishment of businesses or interests; setting yourself goals; engaging in motivational self-help techniques, courses and seminars; meeting a motivational man who has a lasting effect on you; in the face of adversity, know you will succeed.

As Inner Processes:

Increasing self-belief and confidence; recognising the need to be courageous; learning to act in the moment; directing your will, focussing your intent; breaking free of mental shackles; listening to your Inner Motivator; removing self-made constraints that block your freedom or success; seeking challenges that make you feel liberated.
Keywords For The King, Knight & Father of Cups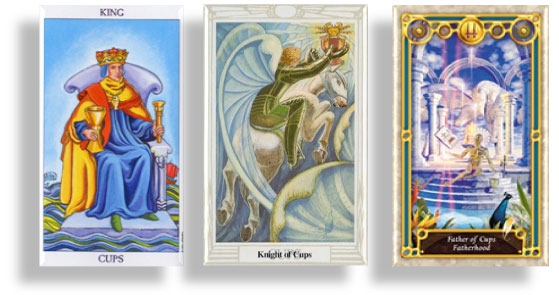 As People:

A compassionate and somewhat emotional man; likely to not only feel deeply but also express it too; knowledgeable on spiritual and mystical matters; no doubt psychic or with a strong intuition; a warm and gentle guy, liked by many for his easy nature; the voice of reason in times of trouble; likely to be found in the caring professions and the arts.

As Events:

Consulting a spiritual advisor, psychic or therapist; the meeting of a personal mentor or guru; organising or managing a charity event; acting as a counsellor or guru to others; being a stay at home dad; the need to be firm but flexible; making a decision that will affect the family; finding your spiritual family.

As Inner Processes:

Learning to manage your emotions; controlling your psychism and channelling experiences; using your intuition to make decisions; connecting with your Higher Self; mastering discernment; being sensible in spiritual pursuits; being responsive not reactive.
Keywords For The King, Knight & Father of Swords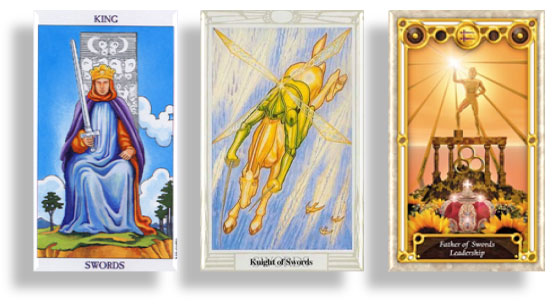 As People:

A decision-maker, a judge or mediator; has a sharp mind and high intellect; found in many of the professional careers; lives by clear logic and fact; diplomatic and a great communicator; an orator, writer and critical thinker; feels deeply but shows little emotion; ambitious but flexible in his approach; lives by justice and fairness; in modern society he lives by the pen instead of the sword.

As Events:

Making plans and organising events; dealing with the authorities; facing big decisions; setting boundaries and rules; taking control and man-managing a situation; meeting with a legal expert or facing a legal case; completing university studies; success and/or completion of a literary project; signing of contracts; acting as a mediator; acting swiftly and decisively.

As Inner Processes:

Putting aside your emotions to make an informed decision; learning to see all sides of a dispute; thinking for yourself; applying mind over matter; expanding on inner wisdom; filtering thoughts and imagination into cohesive ideas and projects; goal-setting and having commitment to those goals.
Keywords For The King of Pentacles, Knight of Disks & Father of Stones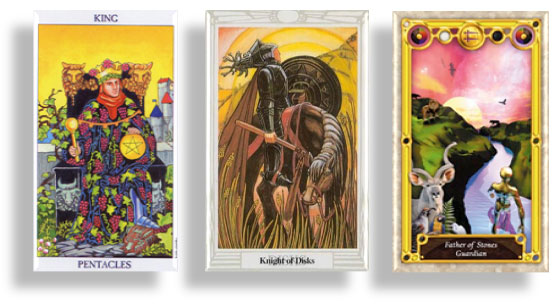 As People:

Hardworking and capable; physically strong and not afraid to get his hands dirty; will just as likely to be digging foundations as he is managing the crew; self-sufficient and excellent with finances; likes prosperity and abundance; is generous but not frivolous with money; enjoys the spoils of war and the fruits of his labours.

As Events:

Landing a long term contract; investing in a business, or investment coming into your business; sales or purchases of property and/or land; meeting with a financial consultant; taking an active interest in conservation and eco issues; moving into the building stages of a plan or project; team building and/or building a team; leading from the ranks.

As Inner Processes:

Committing yourself to your goals; living with a greater sense of purpose; personal growth and development through actions and deed; developing or improving benevolence; exploring inner resources and abilities; pursuing self-sufficiency and self-reliance; learning to relax and enjoy your abundance.
Learn More About Tarot Court Cards
As a group, the court cards can easily confuse many new and experienced tarot readers, and I was one of them. For a long time I did not fully understand this group until I saw them as my own family. I explore that process is How to Finally Conquer the Court Cards. To continue with the rest of this series, please use the links below.
Tarot Card Meanings Supporting Posts
---
Similar Posts: