As a group within the Tarot Court Cards, Pages and Princesses represent youngsters. The age ranges can include very young children to adolescents; though I find this a loose association when working with the Princesses of the Crowley Thoth deck.
As inner processes or events, they can be seen as messages and news, in fact they represent communication of all types. On a psychological level, and for more personal, exploratory readings, they can also be seen to represent your inner child, or the need to reconnect with your inner child.
In her guest post, Order in the Court, Barbara Moore describes the Pages as "one who observes", which is a beautiful summary. She treats the individual elements to the same concise summary so that a court card and element can be matched in an easy to remember system. Barbara developed this for her then upcoming book, Tarot for Beginners. It is a really great way to see the court cards and adds value to the tarot card meanings for the court cards I have laid out here. Be sure to add both systems to your tarot journal.
Keywords For The Page, Princess & Daughter Of Wands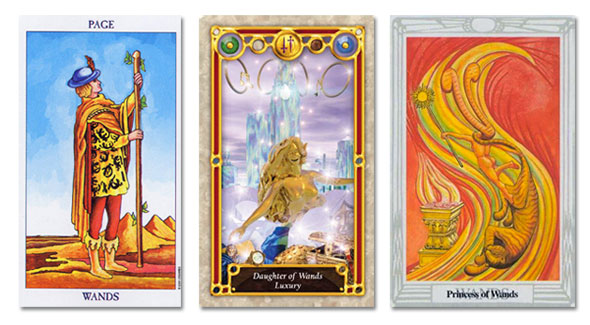 As People:

A lively active child or youth; one who is creative and very hands on; one who is fearless; energetic and has an innate vitality; has a can-do attitude but can be impetuous too; a pleasure seeker.

As Events:

News of a new project, business or otherwise; communication of all sorts, but usually of the swift kind – emails, phone calls etc; party invitations; new possibilities; expect the unexpected.

As Inner Processes:

Overcoming fears and limiting beliefs; re-finding your purpose or vitality; revisiting your childhood dreams with a view to making them real; digging deep and taking the plunge; stepping into your limelight; being courageous and daring.
Keywords For The Page, Princess & Daughter Of Cups
As People:

A somewhat sensitive youth; perceptive and perhaps psychic; gentle and light-footed; articulate and artistic; includes dreamers and poets.

As Events:

Love letters; social invitations, beginning a new artistic course or career; news of an engagement or marriage; happy news and glad tidings.

As Inner Processes:

Trusting your inner voice; increasing or developing your clairvoyance; using meditation to reconnect to your 'source'; re-balancing or calming your energies; using your imagination; finding balance in serenity.
Keywords For The Page, Princess & Daughter Of Swords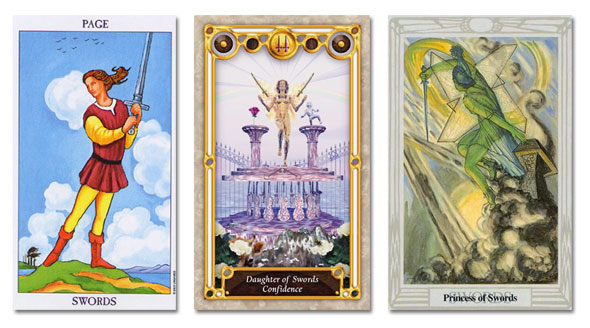 As people:

A quick-witted and quick-minded youngster; analytical and a logical thinker; can be seen to be aloof, but is a keen observer; enjoys the written word and languages; a student.

As Events:

News of official matters, legalities, bureaucracy; delays in business and personal projects; gossip and chatter; documents being prepared, delivered or delayed; the post; going to college or university.

As Inner Processes:

Facing inner demons; overcoming moods; regaining mental clarity; settling inner conflicts; internal rebellion; self belief and confidence; understanding wisdom; getting over yourself!
Keywords For The Page of Pentacles, Princess Of Disks & Daughter of Stones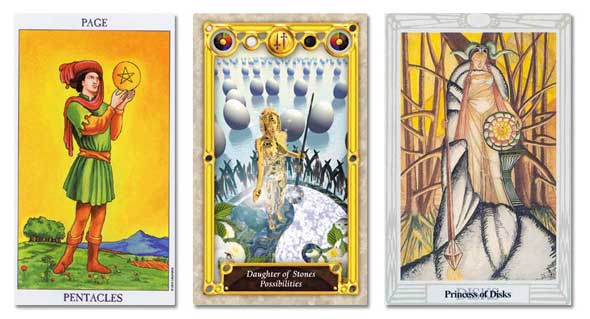 As people:

A studious and methodical youth; enjoys learning, usually through practice; an apprentice; a nature lover; a doer and go-getter; a bringer of change; self-disciplined and determined.

As Events:

News of a financial or business matter; a job offer or promotion; increase in physical activity; joining a gym or other outdoor activity; taking up a new hobby, particularly relating to nature.

As Inner Processes:

Reconnecting with nature; preparing yourself for change(s); embarking on shamanic or meditative work; learning to accept your inner and outer beauty; empathy and benevolence; perseverance and application.
Learn More About Tarot Court Cards
As a group, the court cards can easily confuse many new and experienced tarot readers, and I was one of them. For a long time I did not fully understand this group until I saw them as my own family. I explore that process is How to Finally Conquer the Court Cards. To continue with the rest of this series, please use the links below.
Tarot Card Meanings Supporting Posts
---
Similar Posts: