spiritual insights ~ impetus ~ creative spark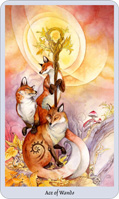 Tarot Card Meanings for the Ace of Wands
Element: Fire
Timing: Jul 21 – Sept 22. Ruled by the Princess (Page) of Wands
Numerology: 1 – Pioneering, leading, alpha, dominance, ambitious, originality.
Card Counting Value: 5
Keywords – The creative spark; a new project or creative endeavour; a passionate union; a new start; willpower; inspiration; virility; spiritual insights; the vital life force; impetus.
Reversed: Projects that don't get going; false starts; delays; impotence; loss of energy; loss of passion.
The Ace of Wands as a Daily Tarot Card
The Ace of Wands is a wonderful indication to begin, to bring forth, to create.
Akin to the All Spark in the Transformers stories, the Ace of Wands gives birth to everything that is possible.
That creative idea you've had, the inspiration, the stirrings – now is the time to bring it to fruition with this card and its life-giving energy.
If you haven't experienced the inspiration I'm talking about here – prepare to. Let the All Spark stir in you and fan your internal flame as your find your creative genius & give birth to your ideas.
This is sure to be one of the best days of the year – use it well.