What Does the Queen of Wands Mean?
---
The Queen of Wands indicates a transformation, a stepping into your power & becoming yourself. Passion, belief & sensuality all inform this dynamic & charismatic woman.
---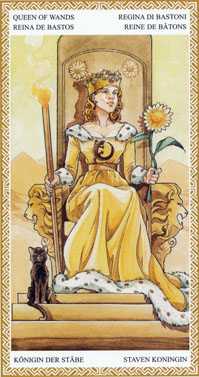 Tarot Card Meanings for the Queen of Wands
---
The Queen of Wands General Keywords & Reversed Meanings
General

Mother; sexual; flirty; social; dynamic; expressive; creatrix; open-minded; clairvoyant; telepathic; femme fatale; dominatrix.

Reversed

Shallow & egotistic; dramatic & demanding; ruthless ambition; prone to self-sabotage; interference; self-deception; selfish; vain.
The Queen of Wands as People
Occupations

Aerobics teacher; exotic dancer; business woman; counsellor; manager; performer; reporter/journalist; art and design; executive/director.

As People

An energetic and lively woman; creative but expansive; intuitive and self-confident; endless pizazz; a tough business woman; independent and dynamic; sensual and passionate; a visionary with an eye for the unusual; ambitious and determined; often a hedonist or thrill-seeker; enjoys socialising.
The Queen of Wands as Events & Processes
As Events:

Success in business or other endeavours; taking up a new creative, but active hobby; seeking or finding a mentor or guide; expansion of business or career; the time is right to go for your dream!

As Inner Processes:

Embarking on a period of self-development; exploring spirituality; seeking psychic or spiritual experience; finding a personal failing and actively seeking to correct it; learning to be more daring and bold; a pep talk from female ancestors.
Queens & Mothers
The Queen is but one way to represent the mature ladies that grace each suit. The main three decks follow this way but some decks break with this tradition. The Quest Tarot is one such deck where the court family is replaced with an actual family: father, mother, son & daughter. Changing the title of the card does shift the meaning a little and humanises the court card in a more familiar way, as I explore in How to Finally Conquer the Court Cards.
Queen of Wands Correspondences
Elemental
Water of Fire. Queens are water, the suit is Fire
Timing
Mar 11 – Apr 10
20° Pisces – 20° Aries
Rules 10 of Cups; 2 of Wands; 3 of Wands
Qabalah
Binah in Atziluth
Numerical Values
4 – card counting value / letters of the Tetragrammaton
3 – Tree of Life sephira – Binah
13 – sequential, following the Knight of Wands
Yes or No
Yes

Queen of Wands as a Daily Tarot Oracle Card
Oracle Message: When you experience your natural confidence today, remember it so you can use it again, and again, and again…
Bold, dynamic & kick-ass – that's the energy available today, courtesy of the enigmatic Queen of Wands. And about time too. If you've been struggling in life lately, it's time to regain control and get some forward movement happening.
Some of you may be involved in creative projects, others may be just discovering themselves – whatever camp you fall into, you'll be feeling really good about yourself which makes you not just Miss Radiance, but also Miss Productive too as nothing seems to stand in your way.
Whatever you get to play with today – work, business, home decorating, your kung fu class – you'll be the Queen of Dynamism. And don't you just deserve it?! How will you let your inner Queen of Wands direct your day?
The Queen of Wands indicates a transformation, a stepping into your power & becoming yourself. Passion, belief & sensuality all inform this dynamic & charismatic woman. #tarot #learntarot #dailytarot #tarotcardmeanings…
Click To Tweet
Tarot Card Meanings Supporting Posts
<< Knight of Wands | King of Wands >>
---