What Does the Knight of Wands Mean?
---
Determination & directing your will all describe the Knight of Wands. Whatever you are planning, this card says you have the energy, tenacity & desire to succeed. Go for it!
---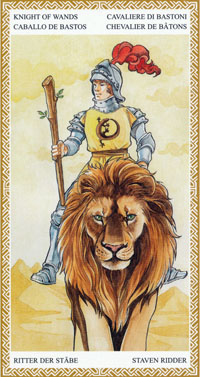 Tarot Card Meanings for the Knight of Wands
---
The Knight of Wands General Keywords & Reversed Meanings
General

Travel; movement; migration; change of residence; courage, taking action; clever; witty; charming; energetic; focused; spontaneous.

Reversed

Arrogance; egotism; one given to jealousy; misspent creativity; sometimes violence; delayed travel plans & blockages; prone to boredom; can be a liar or trickster.
The Knight of Wands as People
Occupations

Tour guide; soldier; marketing and promotions; actor; budding entrepreneur; professional sportsman; illusionist; political activist; freedom fighter; electricians.

As People

Energetic and ambitious; not necessarily sporty, but definitely adventurous; determined though sometimes a little hasty; charming with a magnetism that's hard to resist; exciting and motivational; dynamic and inspiring; entertaining and often into drama(s) (of all kinds); a budding entrepreneur.
The Knight of Wands as Events & Processes
As Events

Journeys and travelling; moving home, even emigrating; a change of job or promotion; sporting events; acting quickly in any endeavour; creative ideas being brought into action; taking a risk; putting yourself out there; to boldly go…

As Inner Processes

Finding your vitality; trusting your gut instinct; embracing challenges ahead; allowing yourself to let your hair down; giving yourself a pep talk; believing you can do it; having the courage of your convictions.
Knights, Princes & Sons
Not all decks portray the Knights as they young men that are seen in the Rider Waite-Smith Tarot. In the Crowley-Harris Thoth they are Princes (based on Qabalah) and in the Quest Tarot they are called Sons (based on the family). Changing the title of the card does shift the meaning a little and humanises the court card in a more familiar way, as I explore in How to Finally Conquer the Court Cards.
The above decks all visually represent knights within the same age range. The Lo Scarabeo Tarot maintains this age and name, it's French counterpart being Chevaliers. See all of the Knights, Princes and Sons together in my post of the same name.
Knight of Wands Correspondences
Elemental
Air of Fire. Knighs are air, the suit is Fire
Timing
Jul 12 – Aug 11
20° Cancer – 20 ° Leo
Rules 4 of Cups; 5 of Wands; 6 of Wands
Qabalah
Tiphareth in Atziluth
Numerical Values
4 – card counting value / letters of the Tetragrammaton
6 – Tree of Life sephira – Tiphareth
12 – sequential, following the Page of Wands
Yes or No
Yes

Knight of Wands as a Daily Tarot Oracle Card
Oracle Message: Whatever you want to do today, do it. Right now.
I love the energy this card carries: it's alive, it's hungry, it's passionate & it's focused. Whatever you've set your sights on, you can achieve today. This is not to say that distractions and obstacles won't show themselves, they will – that's the nature of life. However, with the Knight of Wands as your avatar today, you can overcome and workaround anything that gets in your way.
Outside of yourself, you may well encounter a Knight of Wands today and if you do, you will be impacted. Whether this is positive or negative – and that is down to perspective – when you think of the charisma, presence and mindset of this individual, you will want a slice of this pie.
If you get the chance to interact with the Knight of Wands today, do so. Even if your head spins from this meeting, you will be left with a new awareness of how you can also get things done. Emulate this for your own personal benefit, it can be life changing.
Determination & directing your will all describe the Knight of Wands. Whatever you are planning, this card says you have the energy, tenacity & desire to succeed. Go for it! #tarot #dailytarot #learntarot #tarotcardmeanings…
Click To Tweet
Tarot Card Meanings Supporting Posts
<< Page of Wands | Queen of Wands >>
---