What Does the 6 of Wands Mean?
---
Victory after a challenge – the 6 of Wands shows us we have to earn this success & it may be short lived but for now, you have won & you can feel good about that.
---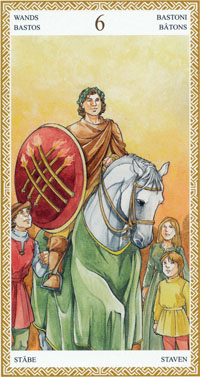 Tarot Card Meanings for the 6 of Wands
---
Keywords for the 6 of Wands

Victory; your goal reached; a breakthrough; feeling the adrenaline of winning; feeling exalted; culmination of your effort; feeling inspired to continue; recognition; loving the limelight; success after strife; difficulties overcome.

The 6 of Wands Reversed

Self-doubts; lack of confidence; questioning what you're doing; delayed success; feeling crushed; a fall from grace or favor; feeling or being ostracized; being out-manoeuvred.

As People

Winners; successful people; runners; equestrians; event and parade organizers;
commentators and reporters; documentary makers.
6 of Wands Correspondences
| | |
| --- | --- |
| Element | Fire |
| Timing | Aug 2 – Aug 11 Jupiter in Leo |
| Numerology | 6 – Movement, balance, solutions, harmony, healing, empathy |
| Card Counting Value | 5 – card number |
| Yes or No | Yes |

6 of Wands as a Daily Tarot Oracle Card
Oracle Message: Enjoy the feeling of success today. You earned it.
Doesn't it feel good to win? Especially when that win took time and effort? There is a competitive edge to this card & traditional imagery suggests combat. This can relate to battles of all kinds – legal, personal, party political – you name it, it's covered.
On a personal level though, whatever you've been battling, know that the tables have turned, a shift has occurred and victory is yours. Think of this card as one small step in a sequence of many. Today you won – yay! Tomorrow brings a new challenge, and the day after that and so on.
Allow yourself to savour the moment though and if it was a big win, you've earned the right to party. Get down and groove.
Let us also ask the question: what is winning to you? If you watch The Call to Courage by Brene Brown, you will learn that sometimes just showing up when you know you cannot win the race means you've won. This is a very personal way to look at it but in the microcosm of our life, just facing something seemingly insurmountable is winning. Showing up is winning. It's a personal victory, not an external one but one that is surely more worthy.
Victory after a challenge – the 6 of Wands shows us we have to earn this success & it may be short lived but for now, you have won & you can feel good about that. #tarot #learntarot #dailytarot #tarotcardmeanings…
Click To Tweet
Tarot Card Meanings Supporting Posts
---