What Does the 3 of Wands Mean?
---
Expansion & virtue feature with the 3 of Wands, so: working the right way, moving forward with plans that are good for all concerned. Doing the right thing in the right way.
---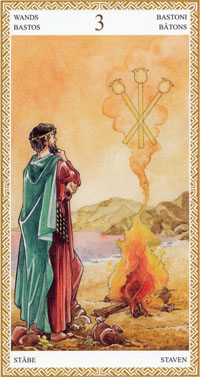 Tarot Card Meanings for the 3 of Wands
---
Keywords for the 3 of Wands

Ideas crystallizing; integrity; confidence; a hobby becoming a business; confirmation you're on the right path; control with harmony; business expansion; making long term plans; investing in your future.

3 of Wands Reversed

Loss of direction; lack of ambition; questioning your motives; changing your mind; difficulties in business; being distracted from your goal; disarray at work; disorganization.

3 of Wands as People

Importers/exporters; hauliers; merchants; traders; travel guides; adventurers and archaeologists; supervisors and managers.
3 of Wands Correspondences
Element
Fire
Active, masculine; hot and dry
Timing
Mar 31 – Apr 10. Sun in Aries
Numerology
3 Triplicity, expression, expansion of the idea, growth, first stages of completion.
Counting Value
3 – card number
Yes or No
Yes

as a Daily Tarot Oracle Card
Oracle Message: Dig deep, push forward.
If you've been actively creating and playing with ideas and new projects these last few days, or even weeks, the 3 of Wands is now showing you the time is ripe for seeding and nurturing them. It's time to stand front and centre by your offering to the world and associate yourself with it.
On a personal level, if you've been feeling down and depleted, take assurance from the 3 of Wands that there will be a shift in your mindset and your energy today. The life force brought forth by this card is enough to fuel you into movement away from your malady and into living.
Sometimes we need a strong energy to shunt us into action, today we will feel it.
Expansion & virtue feature with the 3 of Wands, so: working the right way, moving forward with plans that are good for all concerned. Doing the right thing in the right way. #tarot #learntarot #dailytarot #tarotcardmeanings…
Click To Tweet
Tarot Card Meanings Supporting Posts
---