What Does the 10 of Wands Mean?
---
Life can be difficult & unfair in the load we have to carry. It may not be your fault, but the responsibility fell to you anyway. The 10 of Wands shows you coping though, through it all
---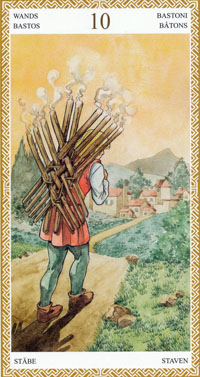 Tarot Card Meanings for the 10 of Wands
---
Keywords for the 10 of Wands

Being overburdened; repression; unreasonable obligations; taking on too much; feeling the pressure; feeling trapped; no control over circumstances; oppression; being a victim of your own success; having too many irons in the fire; laying your burdens down.

10 of Wands Reversed

Some relief from tough circumstances; some burdens being lifted; small gains; not being able to delegate; trying to fulfill your obligations but failing; losing control & your grip.

10 of Wands as People:

Strong men; weightlifters; construction workers; rescue services; lumberjacks.
10 of Wands Correspondences
| | |
| --- | --- |
| Element | Fire |
| Timing | Dec 13 – Dec 21. Saturn in Sagittarius |
| Numerology | 10 – Ultimate completion, final manifestation, result of true will, recognition, continuation, realisation, endings |
| Counting Value | 10 – card number |
| Yes or No | No |

10 of Wands as a Daily Tarot Oracle Card
Oracle Message: Get your multitasking hat on, today will be quite a ride.
I love that the Shadowscapes Tarot has a more elegant depiction of the 10 of Wands. The lady appears to be carrying her very large load lightly. There is no drudgery here, only capability and that I feel is the key to this card today – capability.
Today will be a hard day, full on & demanding. It will seem as if the world will stop if you don't sort everything out for everyone around you. The phone may ring constantly, a number of bills land on the doormat, children and your elderly parents need running here there and everywhere. And yet you do it all.
This is the card of the multitasker, the traditional housewife or homemaker who does everything for everyone and still manages to sit down in the evening. My mother-in-law is one such woman. And this is you today. Its' gonna be busy, but you've got this.
Life can be difficult & unfair in the load we have to carry. It may not be your fault, but the responsibility fell to you anyway. The 10 of Wands shows you coping though, through it all. #tarot #dailytarot #learntarot…
Click To Tweet
Tarot Card Meanings Supporting Posts
<< 9 of Wands | Page of Wands >>
---