What Does the Knight of Swords Mean?
---
When you feel inspired & energized, you put your plans into action. The Knight of Swords signifies a time when you think you can do anything. And you can. Bring your ideas into being, the time is now.
---
Tarot Card Meanings for the Knight of Swords
---
Knight of Swords General Keywords & Reversed Meanings
General

Active; energetic; exacting; swiftness; sudden changes; assertive; mental agility; problem solving; being able to think on your feet; resolution; courageous; travel.

Reversed

Conflict; insensitivity to others; prejudice; acting in haste; lying and being deceitful; impatient; pettiness; loss of clear thinking.
Knight of Swords as People
Occupations

Soldier; advocate; lawyer; negotiator; travel writer; copy writer; politician; spin doctor; surgeon; hairdresser; archer; activist; researchers and graduates.

As People

Quick-minded and decisive; a problem solver and strategist; can appear insensitive but is mostly forthright; often ruthless and direct; forward thinking; communicators and analysers.
Knight of Swords as Events & Inner Processes
As Events

Meetings and conventions; negotiations and disputes; a legal case being brought to you or by you; management of ideas and projects; backing the under-dog; pursuing ideas; taking control of a situation; over seas travel.

As Inner Processes

Finding solutions to your problems; creative thinking; changing ideals and beliefs; removing what thoughts and beliefs don't serve you anymore; a journey of self-examination; discovering and establishing your own set of beliefs.
Knights, Princes & Sons
Not all decks portray the Knights as they young men that are seen in the Rider Waite-Smith Tarot. In the Crowley-Harris Thoth they are Princes (based on Qabalah) and in the Quest Tarot they are called Sons (based on the family). Changing the title of the card does shift the meaning a little and humanises the court card in a more familiar way, as I explore in How to Finally Conquer the Court Cards.
The above decks all visually represent knights within the same age range. The Lo Scarabeo Tarot maintains this age and name, it's French counterpart being Chevaliers. See all of the Knights, Princes and Sons together in my post of the same name.
Knight of Swords Correspondences
Elemental
Air of Air. Knights are air, the suit is Air
Timing
January 10 – Feb 8
20° Capricorn – 20 ° Aquarius
Rules 4 of Pentacles; 5 of Swords; 6 of Swords
Qabalah
Tiphareth in Yetzirah
Numerical Values
4 – card counting value / letters of the Tetragrammaton
6 – Tree of Life sephira – Tiphareth
12 – sequential, following the Page of Swords
Yes or No
Yes

Knight of Swords as a Daily Tarot Oracle Card
Oracle Message: With the bit between your teeth, you are on top of every game today.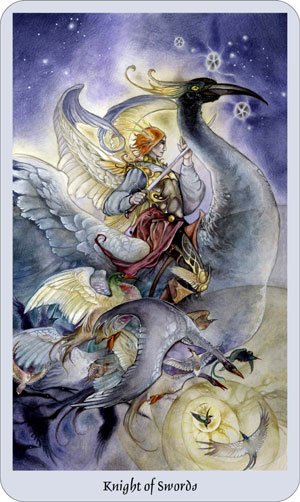 The Prince of Swords is all about the intellect and it will feel at times today that it has a life force all its own. You may at times feel like a spectator to your own life. This doesn't have to be a bad thing, channel this mental energy and you will have one of the most satisfying and productive days you've had in a long time.
It might be a good idea to write down all the ideas that come to you, in their raw form and all the adjustments, so you can reassess them when you're in a mentally calmer state. If you do that though, be careful not to let your inner naysayer get in the way of the potential that flew from your active and brilliant mind today.
Such high energy can also bring about tension. Arguments can ensue & you may find yourself verbally defending yourself or your position. You may also be taking the fight to someone else. One thing is for sure, with the bit between your teeth, you are on top of every game today.
When you feel inspired & energized, you put your plans into action. The Knight of Swords signifies a time when you think you can do anything. And you can. Bring your ideas into being, the time is now. tarot #dailytarot…
Click To Tweet
Tarot Card Meanings Supporting Posts
<< Page of Swords | Queen of Swords >>
---