What Does the 10 of Swords Mean?
---
Defeat has come, ruin is here and all is bleak. This is perhaps the worst card in the deck. All is lost and there is no hope. The sun sets.. But, the sun also rises & tomorrow is a new day. Lay still for a moment, before you rise again.
---
Tarot Card Meanings for the 10 of Swords
---
Keywords for the 10 of Swords

Ruin; a sudden ending; feeling totally broken; grief; a negative outcome; depression; feeling crushed; the result of wrong choices; surgery; falling just before the finishing line; hardship; a bad omen; projects failing; being stabbed in the back.

10 of Swords Reversed

Feeling powerless; a coma; catatonia; the aftermath; trying to work out what went wrong; discovering your betrayer; obstacles being removed; light at the end of the tunnel.

As People

Actors; extreme circus acts; escapology illusionists; someone physically ill; surgery patient; a widow or widower.
10 of Swords Correspondences
| | |
| --- | --- |
| Element | Air |
| Timing | June 11 – June 20. Sol in Gemini |
| Numerology | 10 – Ultimate completion, final manifestation, result of true will, recognition, continuation, realisation, endings |
| Card Counting Value | 10 – card number |
| Yes or No | No |

10 of Swords as a Daily Tarot Oracle Card
Oracle Message: Something is amiss so prepare yourself.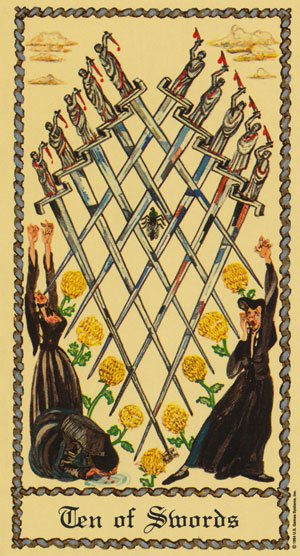 There's no getting away from the severity and harshness of the 10 of Swords, and there's no denying it's effect. The Medieval Scapini Tarot talks of treachery. That may be true for some of you – not everyone has your back. The difference with this version of the card is the swords being in full view of the characters – there's no back stabbing here suggesting you know who and what has the ability to cause you pain and damage.
That knowledge gives you power, so it's best to be prepared. Begin your day by checking over loose ends in contracts, making sure you've paid your bills – anything you have control over, make sure you take care of it. Keep your eyes wide open and be on your guard.
If you have an ongoing issue with a rival or colleague, do your best to take the moral high ground and don't engage in or aggravate arguments. Gossip is a particularly nasty pastime with negative results and connotations. You reap what you sow. Make sure today, you have no reason to receive retribution.
Medieval Scapini Tarot by Luigi Scapini
Defeat has come, ruin is here and all is bleak. This is perhaps the worst card in the deck. All is lost and there is no hope. The sun sets.. But, the sun also rises & tomorrow is a new day. Lay still for a moment, before you rise…
Click To Tweet
Tarot Card Meanings Supporting Posts
<< 9 of Swords | Page of Swords >>
---