What Does the 3 of Cups Mean?
---
The 3 of Cups sees all manner of partying, joining together in groups for fun, joy & everyone's highest good. With or without wine, it's time experience the connection of togetherness.
---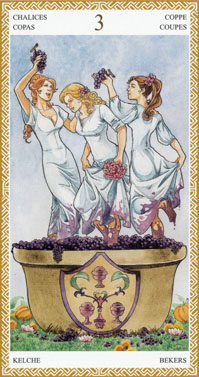 Tarot Card Meanings for the 3 of Cups
---
Keywords for the 3 of Cups

Joy; abundance in love; being in love; giving love freely; feeling love from others; gatherings and celebrations; success with great satisfaction; feeling good; celebrations & family gatherings; women's groups; participating in group events; a harem.

3 of Cups Reversed

Excesses; gluttony; over-indulgence; feeling ostracised; ruined party plans; sadness; sexual deviancy; a love triangle; promiscuity; imbalanced social life; family arguments.

3 of Cups as People

Beauticians; dancers; socialites; wedding planners; event organisers; entertainers;
caterers; entourages; singers; pop bands.
3 of Cups Correspondences
| | |
| --- | --- |
| Element | Water |
| Timing | July 2 – July 11. Mercury in Cancer |
| Numerology | 3 – Triplicity, expression, expansion of the idea, growth, first stages of completion. |
| Card Counting Value | 3 – card number |
| Yes or No | Yes |

3 of Cups as a Daily Tarot Oracle Card
Oracle Message: Feel the love today, it's flowing from everywhere
Your cup runneth over today. All the goodness will outweigh the bad. Any negativity will fade into the background as the outpouring of love, kindness and thoughtfulness fill your cup and then some. The 3 of Cups could also be called the Fountain of Love as it doesn't stop pouring, but overflows in perfect continuation. Love, in all its guises, has no end and you will feel that today.
Be with the people you love, interact with those that make you feel good. Feed off each other's love so it perpetuates and filters through every pore of your body and into their soul too. When you're full of the good stuff, just one more drop of it will make you overflow with it – pass that onto to someone else and soon everyone will feel it and share in the joyous exchange.
It's a day filled with many good things and celebrations can come in many ways and in many forms. Celebration is a response to success and happiness, so expect good things to come your way. Lunch with the girls is also a great move. Any social gathering with those nearest and dearest will feed your soul. Lots of people will radiate with love today, and you will be one of them.
The 3 of Cups sees all manner of partying, joining together in groups for fun, joy & everyone's highest good. With or without wine, it's time experience the connection of togetherness. #tarot #learntarot #dailytarot…
Click To Tweet
Tarot Card Meanings Supporting Posts
---
---