What Does the 2 of Cups Mean?
---
The 2 of Cups signifies a romantic relationship, a joining of two people in harmony, mostly. It can also describe platonic & business relationships that have a close bond – the essential ingredient here.
---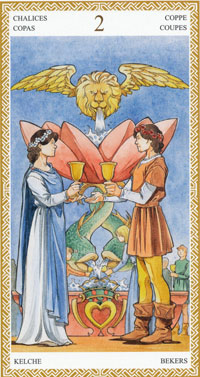 Tarot Card Meanings for the 2 of Cups
---
Keywords for the 2 of Cups

Love; harmony; emotional balance; love flowing freely; a repaired relationship; togetherness; close bonds and friendships; a relationship that is strengthening; mutual love and respect; business partnerships; mergers; joining forces with another.

2 of Cups Reversed

Separation; the end of a relationship; unrequited love; rejection; division; love withdrawn; falling out; arguments; business deals gone awry.

2 of Cups People:

Lovers; couples; partnerships; friendships; counselors; care givers; facilitators; charity workers, wedding planners, wedding chapel workers.
2 of Cups Correspondences
| | |
| --- | --- |
| Element | Water |
| Timing | June 21 – July 1. Venus in Cancer |
| Numerology | 2 – Duality, togetherness, a settling of the energy, union, love, balance |
| Card Counting Value | 2 – card number |
| Yes or No | Yes |

2 of Cups as a Daily Tarot Oracle Card
Oracle Message: Open your heart & receive the love that is flowing toward you.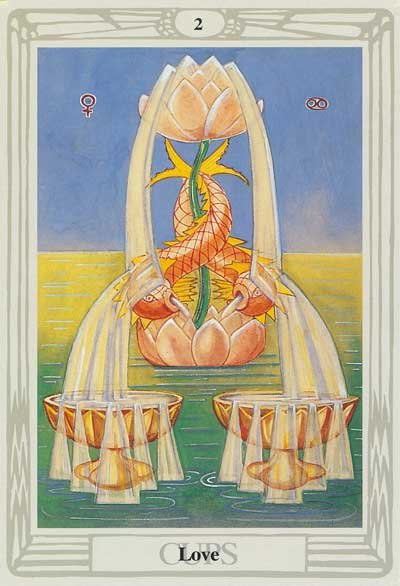 It's been rough out there lately, and we've all felt the heat. Today though, you can relax and enjoy the love that flows to you. Like the lily that emerges beautiful from the mud, your beauty shines, fed from the well of love, it nourishes your soul.
Joy, renewal and clarity of mind all come with this 2 of Cups. Out of the darkness and into the light. Expect a quiet day, perhaps in contemplation. Venus in Cancer suggests your home is your source of love and nourishment today. No matter what's on your agenda though, you can feel safe in the knowledge that love is flowing toward you, bestowing her gift to you.
Take what you need – the Well of Love is deep, an infinite resource that is always available to you. It's healing power comes in many forms and from places you would not expect. In the immortal words of Michael Jackson, You Are Not Alone.
The Thoth Tarot by Aleister Crowley & Lady Frieda Harris
The 2 of Cups signifies a romantic relationship, a joining of two people in harmony, mostly. It can also describe platonic & business relationships that have a close bond – the essential ingredient here. #Tarot #DailyTarot…
Click To Tweet
Tarot Card Meanings Supporting Posts
---