What Does the of Pentacles Mean?
---
The card of the apprentice, the 8 of Pentacles is not just about learning a subject, but a skill, and one that involves the hands – creating, moulding & fixing. It signifies taking the time to learn & learn well. Learn, create, repeat.
---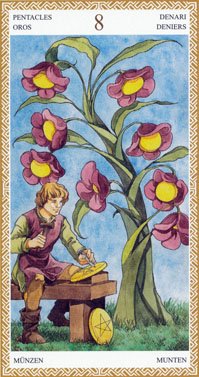 Tarot Card Meanings for the 8 of Pentacles
---
Keywords for the 8 of Pentacles

Being cautious; foresight; discretion; taking calculated risks; careful with money; learning; education; taking a balanced approach; improving your skills; studiousness; a period of study; working hard; productivity; attention to detail; working to deadlines.

8 of Pentacles Reversed

Wasting resources; a poor effort; cheating; leaving education prematurely; substandard work; slovenly work/attitude; missing deadlines; finding studies difficult.

8 of Pentacles as People

Factory workers; the self-employed; line managers/supervisors; mature students; the pedantic; tradesmen of any kind; craftsmen; skilled workers.
8 of Pentacles Correspodences
| | |
| --- | --- |
| Element | Earth |
| Timing | Aug 23 – Sept 1. Sun in Virgo |
| Numerology | 8 – Manifestation, practicality, skill, absolute decisions, business, the ego |
| Card Counting Value | 8 – card number |
| Yes or No | Yes |

8 of Pentacles as a Daily Tarot Oracle Card
Oracle Message: Variety is the spice of life & the key to a happy work day.
What a busy day lay ahead. There is a familiarity to the work and the day, a routine by which you can set your clock. And yet there's another side to the 8 of Pentacles that we don't normally see. It offers us the chance to do something different with our day, to change it up a little. To try something different – to get out of our comfort zones and be creative in our work.
Those of you with visions of Freddie Mercury in a short skirt and pink lipstick singing, "I want to break free.." will know exactly what I'm getting at. The monotony of the everyday. Day in, day out – same old, same old. Here's your chance to break the mould and do something different. You still have to do some work, but you get permission from the 8 of Pentacles to do it a little differently.
The card of the apprentice, the 8 of Pentacles is not just about learning a subject, but a skill, and one that involves the hands – creating, moulding & fixing. It signifies taking the time to learn & learn well. Learn,…
Click To Tweet
Tarot Card Meanings Supporting Posts
<< 7 of Pentacles | 9 of Pentacles >>
---