What Does the 3 of Pentacles Mean?
---
Working with others, or working with multiple systems & ideas reign with the 3 of Pentacles. There is an excellence that persists with this card also. Creating with your hands, forming & forging are also favoured.
---
Tarot Card Meanings for the 3 of Pentacles
---
Keywords for the 3 of Pentacles

Work; a new job or career; career satisfaction; doing a good job; effort; excellence; continued progression; being industrious; productivity; team work; consulting with others; getting outside help in; getting outside; co-operation; creating a masterpiece.

3 of Pentacles Reversed

Loss of work; dissatisfaction at work; being passed over for promotion; being demoted; unsatisfactory work; problems at work; obstacles on the job; delays to completion.

3 of Pentacles as People

Building surveyors; architects; builders; team members; builders; bricklayers/stonemasons; master craftsmen; carpenters; recruitment consultants.
3 of Pentacles Correspondences
| | |
| --- | --- |
| Element | Earth |
| Timing | Dec 31 – Jan 9. Mars in Capricorn |
| Numerology | 3 – Triplicity, expression, expansion of the idea, growth, first stages of completion |
| Card Counting Value | 3 – card number |
| Yes or No | Yes |

3 of Pentacles as a Daily Tarot Oracle Card
Oracle Message: Success requires that you take action.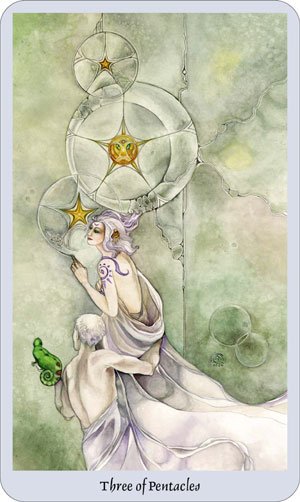 Material works, productivity, work and skill are just some of the keywords for the 3 of Pentacles and give you an indication of the day that lay before you. If you think "no pain, no gain", think again. This card is all about doing a great job and enjoying it too.
If you're decorating your home, building a new garden shed, or sewing a new patchwork quilt, you can be rest assured you will achieve a lot today. Productivity indicates growth and with your own efforts, you can see exponential growth today so long as you put the effort in.
Reverse this card and you will see a man sleeping on the job, not producing or creating anything. The frames behind him show a half finished job.
So here's the thing – having something in place, or beginning something isn't enough, you gotta work at it to make it succeed. What will you work on today?
Working with others, or working with multiple systems & ideas reign with the 3 of Pentacles. There is an excellence that persists with this card also. Creating with your hands, forming & forging are also favoured. tarot…
Click To Tweet
Tarot Card Meanings Supporting Posts
<< 2 of Pentacles | 4 of Pentacles >>
---