What Does the 5 of Pentacles Mean?
---
A difficult time ensues. Work is lost, money dries up, family & friends either turn their backs or cannot help. You are alone & you feel it – but this too shall pass. Some plants flower in winter, your time will come.
---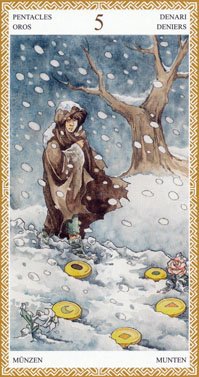 Tarot Card Meanings for the 5 of Pentacles
---
Keywords for the 5 of Pentacles

Material loss; worries; setbacks; stagnation; tension building; lack of belief; desolation; feeling isolated; being down on your luck; unemployment; losing your faith; losing your home; falling ill; financial hardship through illness; being excommunicated from your religion or faith.

5 of Pentacles Reversed

Coming out of a dark period; small gains; a turn for the better; finding sanctuary; finding hope; minor losses; financial setback; temporary setbacks at home and/or work.

5 of Pentacles as People

The unemployed; the homeless; debt collectors; bailiffs; home repossessors; a social pariah; religious outcasts; undercover police/agents.
5 of Pentacles Correspondences
| | |
| --- | --- |
| Element | Earth |
| Timing | Apr 21 – Apr 30. Mercury in Taurus |
| Numerology | 5 – Instability, exaggeration, over exertion, strife, changes, freedom, loss |
| Card Counting Value | 5 – card number |
| Yes or No | No |

5 of Pentacles as a Daily Tarot Oracle Card
Oracle Message: Difficulties abound, but know this too, shall pass.
It will be a difficult day in many ways. The 5 of Pentacles is a card of struggles and material difficulties. Doors close and every attempt at forward motion is met with obstacle after obstacle.
Working is often a thankless task. There may be times today when you wonder what it's all for. You may question what you are even doing. Following a dream is one thing, putting food on the table is another…
Now while this may sound rather gloomy – we cannot escape the complexity of life and our daily struggles. Rose coloured glasses belong in the movies. You may feel that you have no support, you may feel all alone in this world in your struggles and that there is no help or respite. The door is closed because it's cold outside. All you have to do is knock and ask to come in.
A difficult time ensues. Work is lost, money dries up, family & friends either turn their backs or cannot help. You are alone & you feel it – but this too shall pass. Some plants flower in winter, your time will come. tarot…
Click To Tweet
Tarot Card Meanings Supporting Posts
<< 4 of Pentacles | 6 of Pentacles >>
---