What Does the Strength Card Mean?
inner strength ~ personal power ~ presence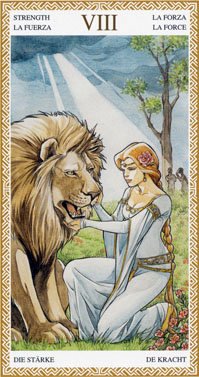 Tarot Card Meanings for Strength
---
Keywords

Inner strength, self-assurance, self-control, self-belief, patience, confidence, enjoying power, lust, sex, sexuality, eroticism, heroic acts, strength through personal power & not violence, vitality, virility, potency, confidence without arrogance, compassionate.

Reversed

weakness, fragility, lack of self-control or patience, lacking courage, needing support, self-doubt, someone who is overbearing, breaking your own moral code, vanity, hedonism.

As People

Animal trainers/handlers, animal whisperers, veterinarians, animal rights activists, negotiators, exotic dancers/performers, circus performers, animal rescuers.
Correspondences for the Strength Card
Key
8
Element
Fire
Hebrew Letter

ט

– Tet
Astrology
Leo
Jul 23 – Aug 22
Related to
The Star #17 / 1+7=8
Count
12 – zodiac trump
Yes/No
Yes

Strength as a Daily Tarot Oracle Card
Oracle Message: You never know how strong you are until being strong is the only choice you have left.*
As the 9 of Wands talks of courage in facing an external threat, the Strength card talks about developing that courage from within. This is not battling yourself per se, though the need to overcome some personal addiction or trait you decide is unfavourable definitely falls into the realm of this card, today you are being asked to take stock of how you deal with life and then internalise the results. They don't all serve you well and oftentimes leading to crushing insecurities.
Today you are being asked to dig deep and face a fear, or fears, that is holding you back. Don't want to make that call to the debt collecting agency? Do it. Can't face that awful woman at work? Face her. You can do it. The Strength card says you can and it says you can do it elegantly like a lion.
*Bob Marley
Tarot Card Meanings Supporting Posts