Home » Tarot Card Meanings » Major Arcana »
Tarot Card Meanings for the Empress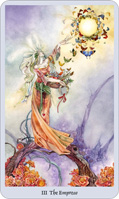 fecundity ~ creativity ~ abundance
Keywords for the Empress

Nurturing, abundance, fertility, mothering, your mother, love, beauty, a businesswoman, mother earth, a multi-tasker, pregnancy, creativity, solving problems creatively, fulfilling your potential, a successful business or opportunity; social status.

The Empress Reversed

Laziness, creative and/or business stagnation, lack of co-ordination, wasting resources, financial difficulties, problems within the home, infertility, depression, laziness.

The Empress as People

Mothers, homemakers, boutique owner, beauty salon owner/worker, interior designer, humanitarian, retreat/spa owner, horticulturist, florist, caterers, hostesses.
Who is the Empress in Tarot?
The Empress is an earthly mother, one who nourishes and nurtures her family. As consort to the Emperor, she is matriarchal, but not domineering. As much as she organises and makes sure everyone is where they are meant to be and doing what they are supposed to, she is a homemaker who loves beauty, ambience and love, thanks to her relationship to the planet Venus. Hers is a happy home and her efforts to make it so and keep it that way are her main aims.
The Empress is the embodiment of the four queens of the minor suits, each one can be seen fully expressed within her, effortlessly so. This is a tall order for most of us to achieve in her totality. What we can do is use the Empress as a resource to supply us where we may feel we are lacking, either in energy, inspiration or by following her example and striving to be best we can in our daily lives.
The symbolism of the Empress card depicts her nature in agriculture, productivity, fertility, the harvest, flow and creativity. We see the pomegranate, wheat, rivers, forests, blue skies and lush green everywhere. Symbolism across a large number of tarot cards are consistent in this depiction, but the Gaian Tarot puts a lovely spin on this card by calling her the Gardener and shows the fruits of her labours as she sits among them, enjoying this deep satisfaction as much as the lady in the 9 of Pentacles.
To see the Empress in a tarot reading may suggest a period of intense creativity, productivity, motherhood and familial roles of caring and nurturing. Success is indicated with creative projects begun in or around the time this card shows up. You will get a lot done during this time but you will also do it well and with joy and happiness. Any struggles are replaced with a renewed sense of personal satisfaction.
Correspondences for the Empress
Key
3
Element
Earth
Astrology
Venus
Timing is according to conditions
Numerology
3
Related to 12, the Hanged Man, and 21, the World
Count
9 – Planetary Trump
Yes/No
Yes
Posts Featuring the Empress
Seeing how a tarot card relates to life is a great way to learn tarot. The Empress is featured in my Daily Tarot Spread and the Soul Journey Tarot Spread. Both very different spreads, both providing very different readings but both featuring the same card – the Empress.
In the Gaian Tarot – An Interview With Joanna Powell Colbert, you can see how the Empress is aligned with Gaia as earth mother and in Free Online Tarot Readings – Do They Work? you can see another's interpretation of the Empress that comes from a slightly different angle.
<< The High Priestess | The Emperor >>