What Does the Hermit Card Mean?
introspection ~ withdrawing ~ self-exploration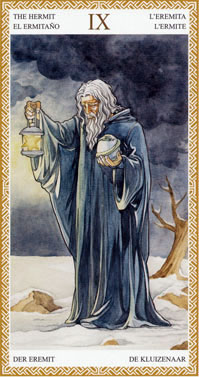 Tarot Card Meanings for the Hermit
---
Keywords for the Hermit

Introspection, contemplation, wanting or finding solitude, private self-reflection, seeking enlightenment & spiritual experiences, meditation, being discreet, privacy, home study, withdrawing from society, patience, self-exploration, therapy/counseling, self-help.

The Hermit Reversed

Withdrawing from loved ones, turning your back on someone, being isolated, feeling out in the cold, self-absorption, a social misfit, loneliness, exile, being silenced, sadness.

The Hermit as People

Hermits, spiritual seekers, mountain climbers, extreme sportsmen, cave/pothole explorers, archaeologists, historians, philosophers, shaman, witch doctors, natural healers.
Correspondences for the Hermit
Key
9
Element
Earth
Hebrew Letter

י

– Yod
Astrology
Virgo
Aug 22 – Sept 23
Numerology
9
Related to 18, the Moon
Count
12
Yes/No
Maybe
Tarot Card Meanings Supporting Posts
<< Strength | The Wheel of Fortune >>
Did you love this post? Tell your friends about it!