What Does the Star Card Mean?
hope ~ health ~ healing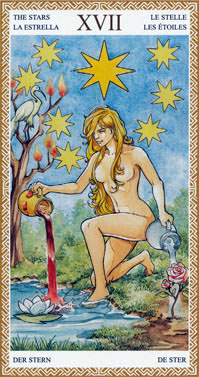 Tarot Card Meanings for the Star Card
---
Keywords

Hope, happiness, opportunities, optimism, renewal, spirituality, cosmic blessings, help in all forms, beauty & aesthetics, astrology, astronomy, the heavens, wishing on a star, good health & healing, an inspirational person, a period of tranquility, alternative therapies.

Reversed

Feeling hopeless/hopelessness, feeling unwell, disappointments, missed opportunities, refusing an offer of help, refusing to offer help, blocks to renewal/spiritual enlightenment.

As People

Healers, doctors, nurses, new age therapists, astrologers, astronomers, teachers, mentors, beauticians & stylists, guardians & foster parents, charity/relief workers.
Correspondences for the Star Card
Key
17
Element
Air
Hebrew Letter

צ

– Tzaddi
Astrology
Aquarius
Jan 21 – Feb 20
Related to
Strength 17/1+7=8
Count
12 – zodiac trump
Yes/No
Yes
Tarot Card Meanings Supporting Posts
---
Did you love this post? Tell your friends about it!