What Does the Chariot Card Mean?
drive ~ willpower ~ confidence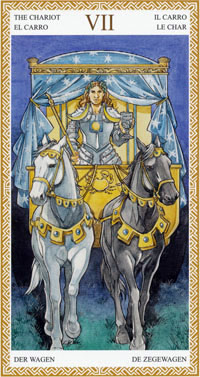 Tarot Card Meanings for the Chariot
---
Keywords:

Drive, will power, direction, ambition, confidence, victory, success, a journey, transportation, success with little or no support, overcoming obstacles, triumph in the face of adversity, coming to the aid of another, mastering a skill, driving force, impetus, energy.

Reversed:

Scattered energy, lack of direction, taking the long way round, loss of will, drive & ambition, a cancelled journey or trip, a vehicle breaking down, needing the help of another.

As People:

Horse riders/racers, equestrians, drivers, pilots, motor racers, bike racers, mechanics, car body technicians/artists, custom car technicians, vehicle designers, engineers.
Correspondences for the Chariot
Key
7
Element
Water
Hebrew Letter

ח

– Chet
Astrology
Cancer
June 21 – Jul 20
Related to
The Tower #16 / 1+6=7
Count
12 – zodiac trump
Yes/No
Yes
Tarot Card Meanings Supporting Posts
---
Did you love this post? Tell your friends about it!