What Does the Emperor Card Mean?
authority ~ structure ~ responsibility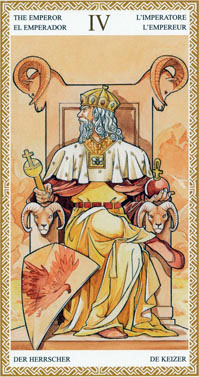 Tarot Card Meanings for the Emperor
---
Keywords for the Emperor

Authority, order, structure, authority, your boss, leadership, your father, the establishment, promotion to a senior role, asserting yourself, ambition, law and order, taking a stand, firmness with others & yourself, rational thought, responsibility, stability, fairness.

The Emperor Reversed

An autocrat, control freak, a weak man, a cruel man, an underachiever, support withdrawn, laziness, abuse of power, lack of discipline, lawlessness, immaturity, no promotion.

The Emperor as People

Fathers, senior politicians, businessmen, senior partners, heads of family, heads of state, hoteliers, big business, CEO's, financial controllers, department heads, the boss.
Correspondences for the Emperor
Key
4
Element
Fire
Astrology
Aries
Mar 21 – Apr 19
Numerology
4
related to 13, Death
Count
12 – Zodiacal Trump
Yes/No
Yes
Tarot Card Meanings Supporting Posts
<< The Empress | The Hierophant >>
---
Did you love this post? Tell your friends about it!