What Does the Justice Card Mean?
truth ~ karma ~ accountability
Tarot Card Meanings for the Justice Card
---
Keywords

Justice, karma, balance and equilibrium, truth, fairness, responsibility, accountability, integrity, dignity, agreements, legal affairs, a court case or tribunal, consulting a lawyer, checking legal documents, seeking fairness through clarity, trial outcomes, justice system.

Reversed

Miscarriage of justice, injustice and/or unfair treatment, losing your case, an adjournment, being discredited, an imbalance, lies & hypocrisy, being out-maneuvered, not being able to speak your truth, legal flaws, making or receiving the wrong decision, bias, jail.

As People

Judges, lawyers, legal workers, prison service staff, mediators, adjudicators,decision makers, loss adjusters, insurance staff, legal activists, peace activists.
Justice Card Correspondences
Key
11
Element
Air
Hebrew Letter

ל

– Lamed
Astrology
Libra
Sept 23 – Oct 22
Related to
High Priestess #2 – 11/1+1=2
Count
12 – zodiac trump
Yes/No
Maybe

The Justice Card as a Daily Tarot Oracle Card
Oracle Message: Employ your moral compass & be fair in all your dealings.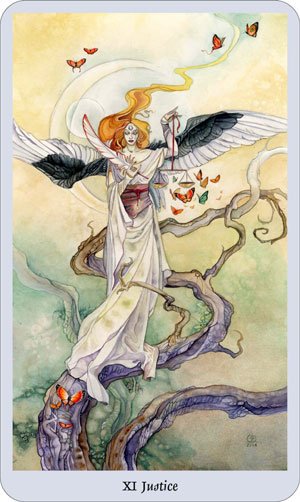 At one extreme, you will be dealing with legal matters, contracts & obligations. If you are these will include legal personnel – lawyers, maybe even judges, most definitely decision makes.
At the other you are being called to adjudicate at the personal level – be or create fairness where there is some missing. You may be experiencing the effect underhanded behaviour, if so, you are being called to take the upper hand through fair means. If you are being unfair, then you have to correct your behaviour whether you like it or not. A zero sum game does not create a balanced situation nor does it promote cohesion or moving forward positively.
You could end up doing a 5 of Swords, and that's not cool. No matter how you think they may deserve it. Can you settle this a better way? You are being asked to think about how. The thinking relates in a way to the High Priestess, inner wisdom and not being rash – finding a solution quietly, privately and in a way that creates an equal sum game.
Tarot Card Meanings Supporting Posts
<< The Wheel of Fortune | The Hanged Man >>
---
Shortlink for sharing: https://wp.me/Pb6MqJ-1KX