What Does the Fool Card Mean?
spontenaity ~ new beginnings ~ a leap of faith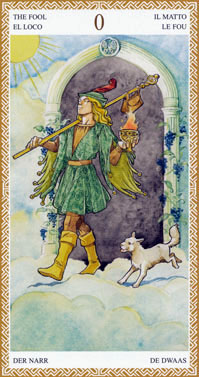 Tarot Card Meanings for the Fool
---
Keywords for the Fool Card

New beginnings, spontaneity, adventure, innocence, potential, faith, fearlessness, a leap of faith, originality, freedom from constraints, purity of action, acting without malice, being in the present, acting without thinking, eccentricity, silliness, seeking freedom.

The Fool Reversed

Folly, stupidity, not thinking through plans properly, chaos, lack of direction, poor judgement, being gullible, naivety, playing it safe, blocks, restrictions, lacking adventure.

The Fool as People

Performing artists, comedians, travelers, wanderers, extreme sport lovers, bungee jumpers, parachutists, daredevils and pleasure seekers, unconventional & unorthodox types.
Correspondences for the Fool
Key
0
Element
Air
Hebrew Letter

א

– Aleph (Mother Letter)
Astrology
Uranus
Timing is spontaneous
Related to
All the Major Arcana
Count
3 – primordial element
Yes/No
Yes
Tarot Card Meanings Supporting Posts
---
Did you love this post? Tell your friends about it!